Society For Biomaterials (USA)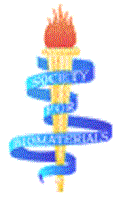 The Society For Biomaterials is a multidisciplinary society of academic, healthcare, governmental and business professionals dedicated to promoting advancements in all aspects of biomaterial science, education and professional standards to enhance human health and quality of life.
The Vision of the Society for Biomaterials is to serve as the world's preeminent interactive global community committed to advancing excellence in all aspects of biomaterial science, engineering and technology for promoting human health and well-being.
In 1969, a number of researchers in the biomaterials field initiated a series of International Biomaterials Symposia concentrating predominantly on materials for reconstructive surgery. As these symposia became increasingly popular, the idea to establish a dedicated biomaterials organization germinated. The Society For Biomaterials (SFB) was formally established in April, 1974.
The purpose for the formation of SFB was, and remains today:
To encourage, foster, promote and advance research and development and education in biomaterials sciences
To promote, initiate, support and accomplish cooperative research, development and educational programs in this field in the public interest
Delegate

Delegate

President/Chairman

Secretary

Karen J.L. Burg, PhD

Harbor Lights Endowed Chair in Biomedical Research, University of Georgia, Department of Small Animal Medicine and Surgery

H-325 CVM, 501 D.W. Brooks Dr.

Athens, GA 30602

Work Email: kburg@uga.edu

Laura J. Suggs, PhD

Associate Professor

University of Texas at Austin

Dept of Biomedical Engineering, 1 University Station, C0800

Austin, TX 78712-1084

Work Email: laura.suggs@mail.utexas.edu

Andrés J. García, Ph.D., F.B.S.E.

Executive Director, Parker H. Petit

Institute for Bioengineering and Bioscience

Petit Director's Chair in Bioengineering and Bioscience

Regents' Professor, George W. Woodruff School of Mechanical Engineering Georgia Institute of Technology

315 Ferst Drive

Atlanta, GA 30332-0363

email: andres.garcia@me.gatech.ed

Shelly Sakiyama-Elbert, PhD

Professor and Chair

The University of Texas at Austin, Department of Biomedical Engineering

107 W Dean Keeton St. Stop C0800

BME 3.314

Austin, TX 78712

Email: sakiyama@utexas.edu